Universities minister David Willetts said middle-class pupils from good schools who get straight As at A-level have not achieved 'something exceptional'
Poo-pooing the efforts
of the children of your core vote doesn't sound like a particularly wise course of action now does it?
And what pray tell did
David "two-brains" Willetts do at school and beyond?
Willetts was educated at King Edward's School, Birmingham, and Christ Church, Oxford, where he studied Philosophy, Politics and Economics.
King Edwards?
King Edward's School (KES) (grid reference SP052836) is an independent secondary school in Birmingham, England, founded by King Edward VI in 1552. It is part of the Foundation of the Schools of King Edward VI in Birmingham, and is widely regarded as one of the most academically successful schools in the country, according to various league tables. It was ranked 7th for A-Level results[1] and 20th for GCSE results,[1] out of all schools in England in 2004.
So, by the fuzzy logic of two-brains Willetts, whereby a students educational achievement is inversely proportional to the success of his school in churning out more tax-drones this puts him on the level of...: Homer Simpson.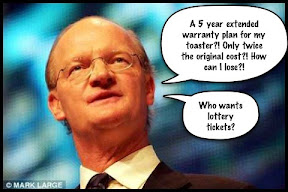 That someone with a crappy start in life goes on to succeed and do great things is to be celebrated, but the mindset that says the middle classes should pay for the party because their own success is implicit in their upbringing is as asinine a suggestion as any I've heard and should be challenged. Daily.